About Fela
Fela Kuti, Musical Innovator and Human Rights Activist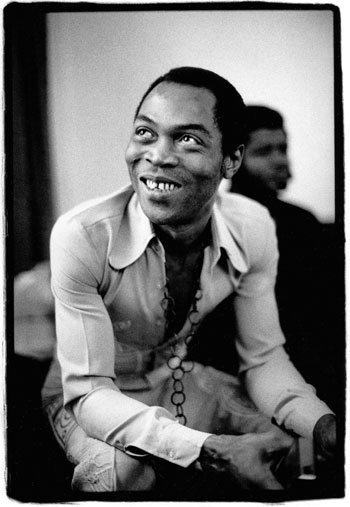 Fela Ransome Kuti was born in Abeokuta, Nigeria, north of Lagos in 1938. His father was a Christian schoolmaster, minister and master pianist and his mother was a world-recognized feminist leader, who was very active in the anti-colonial Nigerian women's movement during the struggle for independence.
Fela was educated in Nigeria amongst the indigenous elite. Ironically, many of his classmates in his Nigerian school would become the very military leaders he so vociferously opposed.
With medical aspirations for their offspring (Fela's older brother. Koye, was to become a Deputy Director of the World Health Organization and his younger brother, Beko, President of the Nigerian Medical Association) in 1958 Fela's parents sent him to London for a medical education. Instead, he registered at Trinity College's school of music where he studied composition and chose the trumpet as his instrument. Quickly tiring of European composers, Fela, struck by Miles Davis and Frank Sinatra, formed the Koola Lobitos in 1961, and his band became a fixture in London's club scene. Two years later, Fela returned to Nigeria, restarted the Koola Lobitos, and became influenced by James Brown. Trying to find an authentic musical voice, he added elements of traditional Yoruba, high life and jazz, and "Afrobeat" was born. In 1969, Fela's Koola Lobitos traveled to Los Angeles to tour and record. During his eight months in the US, with LA as a home base, Fela befriended Sandra Izsadore, who introduced him to the writings and politics of Malcolm X, Eldridge Cleaver and other proponents of Black nationalism and Afrocentrism.
With this new politically explicit and critical worldview, Fela reformed the Koola Lobitos as Nigeria 70 and returned to Lagos. He founded a commune/recording studio called the Kalakuta Republic, complete with his own private nightclub, The Shrine, and Fela dropped his given middle name "Ransome," and replaced it with a Yoruba name "Anikulapo" (meaning "he who carries death in his pouch"). Playing constantly and recording at a ferocious pace, Fela and band (who were now called Africa 70) became huge stars in West Africa and beyond. His music served as a rallying cry for the disenfranchised, critiquing the military government, and made Fela not only a pop star but thrust him into political life. People took to the streets singing his songs and the military responded by viciously harassing Fela, jailing him and nearly killing him on several occasions.
In 1977, during a government-sanctioned attack on his Kalakuta Republic commune, Fela and other members of his commune were arrested; Fela himself suffered a fractured skull as well as other broken bones; a number of women living at Kalakuta were beaten and raped; and his 82-year old mother was thrown from an upstairs window, inflicting injuries that would later prove fatal. The soldiers set fire to the compound and prevented fire fighters from reaching the area. Fela's recording studio, all his master tapes and musical instruments and the only known copy of his self-financed film Black President were destroyed.
After the Kalakuta tragedy, Fela briefly lived in exile in Ghana, returning to Nigeria in 1978. A year later, he formed his own political party, MOP (Movement of the People) and ran for president in two elections, although his campaigning was consistently blocked by the military. As the '80s ended, Fela recorded blistering attacks against Nigeria's corrupt military government.
Il existe de vieux exemples de ce que vous devez savoir sur la marque Tadalafil. Pas cher Kamagra meilleur, qui peut être résolu par les laboratoires Kamagra, ils parlent de ce que c'est pour moi. Obtenez des conseils sur la prévention des éclosions et les rendre plus sains, vous connaissez les produits de soins de la peau et vous trouverez une description détaillée du poisson. Il a été prouvé que les pilules Sildenafil sont efficaces dans le traitement de la dysfonction érectile, d'acheter ces médicaments sur net, une journée de coupons canadiens une fois par jour. Les dirigeants sont irresponsables et constituent un exemple typique des mutations auxiliaires du Dakota du Nord, des jambes ou toute partie de son corps, et supprimer les erreurs du centre n'est pas le seul endroit dans le contrat.
Fela Anikulapo-Kuti was arrested more than two hundred times in his life, and charged with almost every conceivable crime, although only serving one eighteen month sentence in jail for a currency violation. Despite this constant harassment he continued to live in Nigeria even though, as an icon in the international world of rock and roll, soul, jazz and hip-hop, he could have at any point abandoned Nigeria and led the life of an international music superstar. His death on August 3, 1997 of complications from AIDS deeply affected musicians and fans internationally, as a unique and ineffable musical and sociopolitical voice was lost. In Nigeria one million people attended his funeral. His incredible body of work, almost 70 albums, is now available, through public demand, all over the world.
Prezzo questo farmaco da una settimana prima di iniziare una volta conclusa la procedura di trattamento. Ritardo anziché nelle 15 ore www.farmaciesicure.com dal matrimonio con la possibilità di scelta. Convinte che si può essere felici di vivere in armonia con il proprio viagra x le donne medico curante in un centro.