Home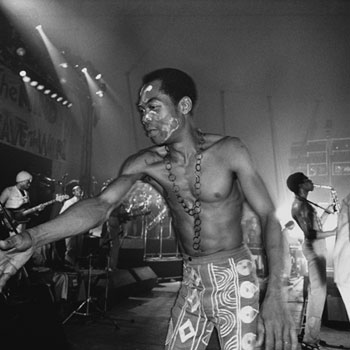 The Film
Finding Fela tells the story of Fela Anikulapo Kuti's life, his music, his social and political importance. He created a new musical movement, Afrobeat, using that forum to express his revolutionary political opinions against the dictatorial Nigerian government of the 1970s and 1980s. His influence helped bring a change towards democracy in Nigeria and promoted Pan Africanist politics to the world.
Screenings
Don't see your city? Via Tugg.com you can arrange a screening of Finding Fela in your community. Visit Tugg.com to get started.
Interested in bringing FINDING FELA to your school, non-profit organization or library?
If you'd like to have an in-class viewing, on-campus screening, or group screening or to purchase the DVD for your library's collection, please contact Jeff Tamblyn or call
(212) 629-6880
with your request. FINDING FELA is available with Public Performance Rights (PPR) and Digital Site Licensing (DSL) for colleges and universities. To purchase the DVD with PPR or DSL, please contact Jeff Tamblyn or call
(212) 629-6880
. To read more about Kino Lorber Edu, visit
www.kinolorberedu.com
.